Abstract of North Carolina Wills
Ezekiel Maudlin Perquimans Precinct
March 25, 1732 April 17, 1732
sons: Jeremiah, Joshua and James
Wife and Executrix: Hannah Executor: Thomas Weekes
Witnesses: Zeb. Clayton, John Stevens, Tulle Williams
Clerk of the Court: Charles Denman
Coat of Arms on seal.
Will recites that testator had sent to Boston for a negro and some goods.
Thomas Maudlin (more information)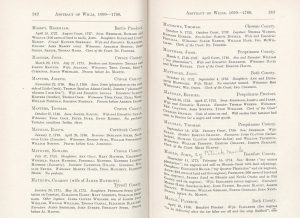 source: https://digital.lib.ecu.edu/13766

p243