Collier Family References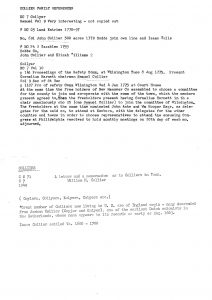 No. 691 John Collier 300 acres 1779 Dobbs join own line and Isaac Tulls
FNC Pt 2 Taxables 1755
Dobbs Co
John Collier and Elizah Williams 2
Collyer
NC 7 Vol 10
p 141 Proceedings of the Safety Comm. at Wilmington Tues 8 Aug 1775. Present Cornelisu Harnett chairman Samuel Collier
Vol. 9 Sec of St Rec
p 1107 Pro of safety Comm Wilmington Wed 4 Jan 1775 at Court House
At the same time the free holders of New Hanover Co assembled to choose a committee for the county to join and co-operate with the comm of the town, which the members present agreed to. Then the freeholders present having Cornelius Harnett in the chair unanimously cho 25 (one Samuel Collier) to join the committee of Wilmington. The Freeholders at the same time nominated John Ashe and Wm Hooper Esqr. as delegates for the said co. to attend at Newbern, with the delegates for the other counties and towns in order to choose representatives to attend the ensueing Congress at Philadelphia resolved to hold monthly meetings on 20th day of each mo. adjourned.