North Carolina Historical and Genealogical Register p. 68, 359, 369
Page 68
Samuel Pike of Pasquotank, April 5, 1719, wife, Jean Pike, son Samuel, daughter, Susannah, son Benjamin, daughter Ann, son John, wife: Executrix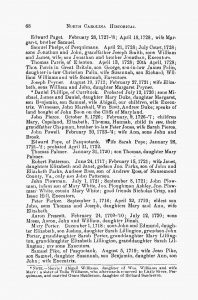 Page 359-360
Overman, John, pasquotank, 9, 11th month, 1744-5. Wife Mary, daughter Elizabeth, son William, daughter Mary, wife and brother Thomas Overman Executors. Test, Chas. Overman, Jas. Overman, John White.
Overman, Jacob, Pasquotank, Sept. 12th, 1715. Wife Dorothy, son Ephrai, daughter Margaret Mackey, son Church, children of my son Jacob, deceased, son William Haig and William Mackey
Executors. Test, Robt. Wheatley, Thos Woodley.
Overman, Charles, Pasquotank, August 8, 1755; —- 1756. Wife Ann, son Samuel, grand-son Reuben (son of Samuel) and his brother Simon, son Thomas and his son William, grand-son James son of Benjamin, sons Benjamin and Enoch, daughter Ann wife of James Morgan, daughters Mary Armour, Elizabeth Armour and Hannah Delon, Thomas Nicholson and newphew Joseph Robinson
Executors. Test, Joseph Moore, David Jackson
Overman, James, Pasquotank, March 20th, 1745-6 …
Page 369
Pike, Samuel, Pasquotank, 11th day, 10th month, 1716. August 8, 1719. Sons Samuel and Benjamin, wife Jane, Executrix, Test, John Martin, John Moor