Pumpkin Muffins with Coconut Flour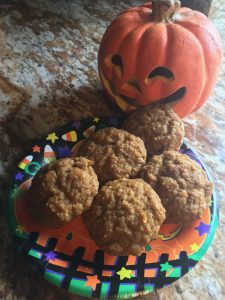 Grandma Barb
Pumpkin Muffins with coconut flour
This "Healthy" not too sweet one bowl muffin recipe is quick and versatile. Be creative with flours, use bananas or applesauce instead of pumpkin. Add nuts or seeds. Have fun with it!
Ingredients
1/2 cup coconut flour and 1/4 each of almond flour & ground oat flour
6 eggs, at room temperature
1/2 cup melted coconut oil
1 cup. pumpkin purée
4 Tbs. raw honey, pure maple syrup, coconut sugar or (combination of 2 or all three)
2 tsp. cinnamon or pumpkin pie spice
1/2 tsp. ground ginger
2 tsp. vanilla extract
2 tsp. apple cider vinegar
1/2 tsp. baking soda
Instructions
Preheat oven 350 and line 10 muffin cups or spray with coconut oil.
Stir together coconut flour and eggs until smooth paste forms. Stir in coconut oil, then pumpkin and honey. Add spices, cider vinegar and baking soda.
Bake 25-30 mins, until golden and top springs back when lightly pressed.
7.7.0.1
33
http://smithharper.org/pumpkinmuffins/