North Carolina Historical and Genealogical Register (Volume 1)
Page 68  
Samuel Pike of Pasquotank, April 5, 1719, wife, Jean Pike, son Samuel, daughter, Susannah, son Benjamin, daughter Ann, son John, wife: Executrix
Page 126
James Perisho died in the month of March in the year 1678; his wife was Hannah and they had son James Perisho born in 1676 and daughter Ellener born 1673; James Perisho. Jr. married Mary Morgain in 1696; another James Perisho and his wife Sarah had James Perisho Jr. born in 1700; James Perisho and his wife Sarah had four children; the orphan James Perisho in 1690 selected Stephen Manwarring as his guardian . . .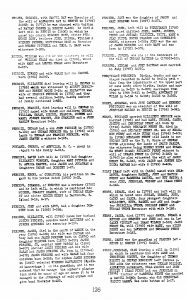 Page 359-360
Overman, John, pasquotank, 9, 11th month, 1744-5.  Wife Mary, daughter Elizabeth, son William, daughter Mary, wife and brother Thomas Overman Executors.  Test, Chas. Overman, Jas. Overman, John White.
Overman, Jacob, Pasquotank, Sept. 12th, 1715.  Wife Dorothy, son Ephrai, daughter Margaret Mackey, son Church, children of my son Jacob, deceased, son William Haig and William Mackey
Executors.  Test, Robt. Wheatley, Thos Woodley.
Overman, Charles, Pasquotank, August 8, 1755; ---- 1756.  Wife Ann, son Samuel, grand-son Reuben (son of Samuel) and his brother Simon, son Thomas and his son William, grand-son James son of Benjamin, sons Benjamin and Enoch, daughter Ann wife of James Morgan, daughters Mary Armour, Elizabeth Armour and Hannah Delon, Thomas Nicholson and newphew Joseph Robinson
Executors.  Test, Joseph Moore, David Jackson
Overman, James, Pasquotank, March 20th, 1745-6 ...
Page 361 - Abstract of Wills
Perisho, Sarah, Perquimans, May 24th, 1754.  April Court 1754. Son Simon, daughters Sarah, Jane and Mourning, grand-son James Perisho, son James and brother Joseph Perisho Executors.  Test, James Pierce, Thos. Stanton, Miles, Harvey Clerk of the Court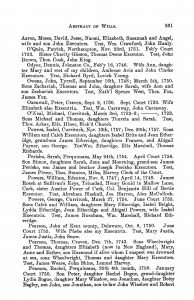 Page 366 Abstract of Wills
Pierce, Joseph Perquimans ...
Pearce, Robert ..
Pearce, Thomas
Pearse, John, Perquimans, 13th 7th month, 1682.  Thomas Dail, A. Bundy, sons thomas and Joseph, wife Caleb Budy, son John, daughter Rebeccah, wife's brother Caleb Scott, Wm. Bundy and Jonathan Phelps Executors.  Test, Robert Wilson, Francis Tomes, John Stanley.
Page 369
Pike, Samuel, Pasquotank, 11th day, 10th month, 1716.  August 8, 1719. Sons Samuel and Benjamin, wife Jane, Executrix, Test, John Martin, John Moor
Page 444-445 Miscellaneous Items of Chowan Precinct
A list of Freeholders* living betwen Salmon Creek and Cashy River in Bertie, Jan'y 9, 1719. ... Hardy ... Pate ... Jonathan Standley, ...
*Technically, a person with an estate in land, although some colonies, like Virginia, used the term to apply to non-landowners with sufficiently large personal assets.  Only a freeholder could serve on juries, hold office, or vote.
John Blount appeared April 7, 1722, before the Commissioner of the treasury at the Court House ... Thomas Pierce, Jr.
Page 447 Miscellaneous Items of Chowan Precinct
Joseph Lane, Sr., was in Edgecome Co, in 1755, defending suit with William Richmaond, also William Bryan suit with Thomas Dixon.  William Aycock took out a grant in Northhampton Co., for 500 acres land August 26, 1746. David Phillips in Edgecombe for 640 acres.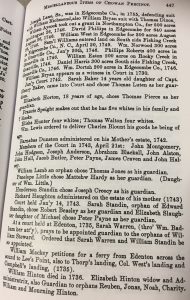 Page 486 Abstract of Wills
Standley, Jonathan, Bertie, March 5th, 1773; April 3rd, 1773. Sons David and edmund, daughteers Elizabeth Roades and Jemima Kittrell, her youngest son Joshua Spivey, daughter Esther Spivey, Susanna Baker, Mary Stallings, Martha Stanley, god-daughter Sarah Thomas Jr., wife Ann, son David, and son-in-law Thomas Roades Exrs.  Test, Cader, Solomon and Martha Creecy.
Page 569 Whitfield Record
Bryan (son of Willam and Rachel Bryan Whitfield) md 1st Nancy (daughter of Needham and Nancy Smith Bryan) issue, (1) Bryan Whitfield, md Elizabeth Turner, (2) Needham Whitfield (died), (3) Rachel md 1st Nathan Bryan, 2nd William Herring, (4) Nancy md John Cobb, (5) Betsy md Genl. Wm. Croom had issue and died, after the death of Nancy, Bryan Whitfield md 2nd Winnefred ( daughter of Col. Nathan and Winnefred Bryan), issue.
Page 573  Whitfield Records
#4 Nathan Bryan Whitfield and Betty Green Cobb, (5) Sarah Eliza Whitfield md Col. John P. Cobb, (6) James George Whitfield md Susan Matilda Croom, sister to Richard Allen Whitfield's wife and daughter of Richard and Winifred Whitfield Croom, (7) Bryan Whitfield md Ellen White of Ridgeway, N. C.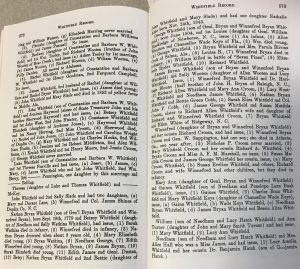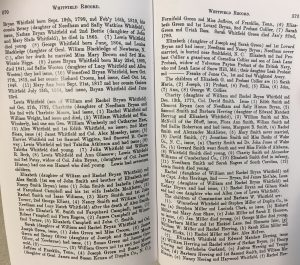 Page 615 Abstract of Conveyances
Same, to Henry Cear. One moiety of 400 acres, part of 635 acres, surveyed for Edward Cobb, by Col. Edward Moseley, the 19 May 1709, South side Meherrin Creek.  Test, Wm. Speight, John Speir.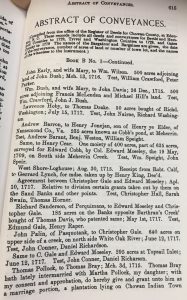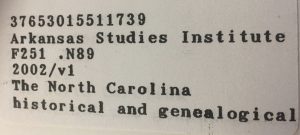 F251 .N89 2002/V1
also 975.6
D25n
Vol 1 (Family History Library)
J.R. B Hathaway