17th Century Isle of Wight County Virginia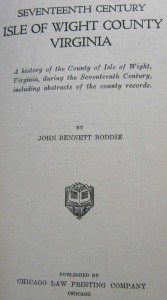 A history of the County of Isle of Wight, Virginia, during the Seventeenth Century, including abstracts of the county records.
p. 2 … Then we departed thence, the President assuring the Kind of his perpetual love, and left with him Samuel Collier, his page, to learn the language.
From this narrative of Smiths it would appear the first white man to reside within the present boundaries of Isle of Wight was Samuel Collier. His fate will be mentioned in a subsequent chapter. …
p 84 Samuel Colyer, one of the most ancient planters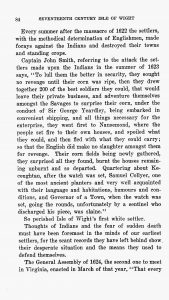 page 184 Some Records of the Revolution
At a Court held for the county of Isle of Wight on Thursday, the 4th day of June, 1772, in the seventh year of the Reign of Our Sovereign Lord, George the Third, by the Grace of God, of Great Britain, France and Ireland King, Defender of the Faith, and in the year of our Lord Christ one thousand seven hundred and seventy-two. Present, James Bridger, Dolphin Drew, Daniel Herring, Brewer Godwin, Thomas Pierce, George Purdie, Gent.
Click here for PDF document pages 184-705
page 186 Ordered that Thomas Pierce, Gent., do attend the district whereof he is Captain and administer to all the white males sixteen years old and upwards, the oath of allegiance appointed by the General Assembly, and make return of his proceedings thereon according to law.
Ordered that Daniel Herring, Junr., Gent., do attend the District whereof Thomas Fearn is Captain, and administer the oath &c.
page 187 Daniel Herring, Junr., Captain of the Militia in this county, and Jessee Herring first Lieutenant of the said Militia this day took the oath appointed by the act of the General Assembly.
page 210
Edward Boykin was the owner of 1100 acres of land in 1704. He made his will in 1726 and same was probated in 1728. He gave his son John 530 acres, and upon the death of his wife Anne the balance of his estate was to be divided among all of his children but his other children were not named. Beside John who died in 1729 leaving no will, the others appear to be Thomas, Edward and William. William married Margaret, daughter of Ralph Vicars and made his will in Isle of Wight in 1734. Edward was probably the Edward Boykin who made his will in Northampton County, N. 0. in 1743 and Thomas Boykin died there in 1748. (See Grimes' Abstract of Wlls, p. 43)
A Francis Boykin, said to be the son of John, made his will in Northampton in 1761. He was the father of William Boykin who married Elizabeth Bryant and moved to Camden, S. C. about 1755. Their son Francis married Catherine. He was a Lieutenant in the 3rd S. C. Troops and later a major in Middleton's regiment of infantry during the Revolution. Francis died in Baldwin County, Georgia in 1)321. His son was Dr. Samuel Boykin (1786-1848) who was the father of Thomas Cooper Boykin (1836-1902) and the grandfather of James Chambers Boykin of Selma, Alabama.
Francis Boykin of Isle of Wight, a member of this family, married Anne, a daughter of John Marshall who died in 1784 and gave the property where the present
page 211
Court House is located to Francis and his daughter. Francis was a Second Lieutenant in the First Regiment of the Virginia Line, commanded by Patrick Henry, during the Revolution. He was Sheriff of Isle of Wight in 1792 and died in 1805. About 1800 he proposed to build a Court House, Clerk's Oflice and Jail on his farm located on the Western Branch of the Nansemond River about eight miles from Smithfield; and offered to exchange that property for the Court House property in Smithfield. After the exchange was made the Smiths claimed that inasmuch as the Court House property in Smithfield was no longer used for public purposes, it had therefore reverted to them. Francis brought an action of ejectment in the District Court at Suffolk but lost the case. He bequeathed the property in question to his son Francis Marshall Boykin and his daughter Amice who married James Johnson, M. C. 1813-1820.
Francis Boykin made his will the 7th of October, 1803, and same was probated 2nd April, 1805. He mentions his daughter Nancy Boykin, sons John and Francis M. Boykin, and the executors were son Francis and Andrew Woodley.
Francis Marshll Boykin was Lieutenant Colonel of the Isle of Wight regiment during the war of 1812. He married Fannie Godwin, daughter of Anthony Godwin and Medora his wife, also a Godwin, daughter of Jonathan Godwin who made his will in 1762. Anthony was a son of Jeremiah Godwin and his wife Mary Holladay who were married May 13, 1748.
Francis Marshall Boykin, II, his son (1806-1863), married Hester Ann Briggs. He was a member of the Virginia State Senate and a General of the State Militia.
page 212
Their son, Francis M. Boykin, III, (1837-1906), was a major in the 3lst Virginia regiment in the Civil War and fought at the battle of Cedar Mountain. He was promoted Lieutenant Colonel and was captured at the Battle of Sailor Creek and confined on Johnson's Island. He married Ellen Burton George and one son, Hamilton Godwin Boykin, lives in Richmond.
page 432 … On the 4th of July, 1718 he (William Bridger) witnessed a deed from William Worrile to John Bardin for 200 acres of land on the north side of the Meherrin River and his name is signed "Bridger" …
Chapter XXIX Book A.
page 520 William Moseley, Capt. Pierce, Joseph and Elizabeth Cobbs (1653)
Margaret (X) Upton to Phillip Dewell of said county, planter, 100 acres abutting on Pagan Creek where said Dewell now liveth, beginning at land of John Sparks, deceased now occupied by James Watson. 9 April, 1652. Teste, William Moseley.
John Sweet to Francis England 450 acres being 400 at Blackwater part of 1500 acres taken up by said Sweet, the other 50 acres adj. Francis England and Capt. Pierce, in letter of orders 28 Nov. 1618 and by the said Sweet his patent dated James City 20 Sept., 1645. Teste, James Pyland, Thos. Woodward.
Joseph Cobbs (aged 60 years), will, 1 March 1653; to wife Elizabeth Cobbs 300 acres called Goose Hill Land provided she shall not marry, and the children that are left shall each have a childs share. To son Benjamin Cobbs one cow. To son Pharoah Cobbs one calf. To dau. Elizabeth Cobbs one cow. Teste, Joseph Dunn, Jno. Child.
page 556
Samuel Davis of Carolina in the Province of Albemarle Sound, son and heir of Samuel Davis, dec., with consent of wife Anne, sell to John Bond 100 acres granted to Thomas Edghill 1637 and assigned to Wm. Stringer, 2 Mar. 1639 and from Wm. Stringer to my
father 15 June, 1642. Dated 12 May, 1668. Nicholas Cobb, Edward Hinckson.
John Bradway of Bristol makes John Vickers his lawful atty. in Va. 15 June, 1669. Edward Gosling, commander of the ship, Coventry of London authorized Abraham Rawson to be atty. and arrest Capt. Francis Hobbs late resident in I. of W. for a bill of 1800 lbs. tbco. due Gosling for a package in the ship Coventry 26 July 1669. John Floyd, Thomas Green. 9 Oct. 1669, Hobbs promised to pay.
page 581 Robert Caufield and wife Eliz. of L. P. of Surry county sell to Robert Kae land formerly belonging to Thomas Gyer and by him sold to Wm. Norwood and by Norwood to Carbery Kigan and by will o Kigan 9 Feb 1657 to me Robert Caufield, 200 acres beginning at mouth of Lawne's Creek to land of Wm. Lawson's now Robert Kae's. 4 Mar 1678-79. Thos. Pittman, Jno. Barnes
Thomas (X) Marks sells Robert Herring of Nansemond, planter, a parcel of land formerly Jno. Garrett's now Thomas Exum's adj. Wm. Denson. 24 Feb. 1678-79. John Poole, Wm. Gundley. Thomas Marks sells Wm. Smelley a parcel of land. 8 Mar. 1678-79.
page 584 Geo. Elson son of Geo. Elson, dec., whereas Col. John Upton with consent of wife Margaret by deed 13 Aug. 1647, did sell to John Mason a certain parcel of land between Wm. Wright, George Leveridge and John Herring, and it was by John Mason conveyed to Robert Dunster, and when he died he left it in fee to his wife Alce who married Edward Palmer and they sold to Thomas Elson and now Geo. Elson, son of Thomas, sells to Robert Coleman. 9 Nov. 1679.
page 606 John Morris, Jr., sells to John Barnes, planter, 100 acres on Blackwater out of 300 which his father bought of Chris. Holliman. His part of the 300 must be the middle between his brother Morgan and brother William. 5 Aug. 1692. John Jones, Sr., John Jones, Jr., James (X) Barnes
A grant to Hodges Council, the younger, and Thomas Mann of 200 acres 23 Feb. 1690. These assign to Wm. Kerle. Sept. 1692.
Nicholas Cobb, son of Nicholas Cobb, dec., sells to Edward Cobb his brother 200 acres called John Jones plantation. 9 Aug. 1686. Ed Cobb deeds his interest to Andrew Woodley. 14 Sept. 1691. John Giles, James Tullaugh, Roger Stevens.
Nicholas Cobb sells John Joanes 150 acres Nov. 1, 1666. Walter Johnston, John (X) Portis.
Deed Book I
page 609 Jacob Barnes, age 43 years, Wm. Smith and Mary his wife, he being 58, made dep. Richar Williams, Jr., age 28. Richard Hampton age –, deposed.
page 612 John Parker and wife Mary give to brother Francis Parker land on western side of an Island commonly called Hugh's Island which his father Thomas Parker, decd., bought of Wm. Rogers, part of a patent of 470 acres, said John Parker to have free outlet through it 9 Dec. 1693. Jacob Barnes, Eliz Altman, Danl Miles.
p.613 – Pharaoh Cobbs and Ann his wife 10 April 1671 –
p 614 – 8 Apr 1694 … William West, Sr. and wife, Rebeccca West, of the lower parish for 2,500 pounds tobacco to Anthony Herring of the same … 200 acres (being part of the land bought from Will Olds) adjoining John Smith, William Westobrey, Nosworthy and the Long Branch. William (X) West, Sr. Rebecca (X) West
Wm. Kerle, Robt. West, Eliza. Boazman.
Henry Baker and wife Mary sell to Thomas Vickers c100 acres of land at Bucklands in Nansemond County. 5 Apl. 1694.
Francis Nicholson grants James Corley 187 acres — (page 615) at Jacob Rixe's cor. tree by Thomas Rixe's line — for importation of 4 persons. 23 Oct. 1690. Jas. Corley and wife Eliz. assign to Thomas Kerbey. 9 Feb 1693-94. Richard (X) Bracewell, wm. (X) West.
page 624 Christopher Wade has grant for 50 and 92 acres in Lower Parish, 20 APl. 1684. Samuel Wade, planter, assigns this land to John Neville, Jr., Jan. 23, 1695-96. John Neville, Wm. Neville. Samuel Wade appoints his brother John Barden to acknowledge signature. Sussanna Wade, his wife, Thos. Giles, Jo. (X) Barden, John (X) Barnes.
page 645 Judith Edwards, spinster, sells to James Bragg, she being one of two daus. and co-heirs of Robert Edwards, dec., her one-third part of 100 acres purchased by her father from Edmond Palmer. 6 Sept. 1701. Edward Brown, Hen. Pitt.
Wm (X) Johnson of L. P., blacksmith, and wife Sarah sell all right to John Bardin. 8 Sept., 1701. Will Crumpler, Wm. Williams.
page 652 Gov. Francis Nicholson granted to James Curles 187 acres. 12 Sept. 1662. (23 Oct., 1690). James Curles and wife Eliz. assign this pat. tho Thomas Kirby, 9 Feb., 1694. Thomas Kirby and wife Ruth assign to John Underwood 1 Jan., 1703.
Gov. Francis Nicholson, the 20 Oct., 1702, granted to Wm. Williams a patent in I. of W. and he and wife Mary Williams sell to Thomas Kirby 250 acres, 10 Apl., 1704. John WIlliams, Nicholas Williams, John (X) Barnes. Wm. Williams and wife Mary sell to John Barnes 100 acres, 4 Apl., 1704. Richard Williams, John Underwood. Wm. Williams and Mary his wife sell to John Williams 125 acres on Blackwater. 4 Apl., 1704 Wm. Williams and wife Mary sell to Nicholas Williams 110 acres, 10 Apl., 1704. Thos. Kirby. Wm. Williams and Mary sell to John Williams 130 acres, 10 Apl., 1704.
page 690
JOHN VICARS, for JAMES BENN, orphan., Sept. 15, 1670, 200 acres escheat land formerly granted to Christopher Benn, deepage 705 Chapter XXXV COUNTY OFFICERS from ISLE or WIGHT AND SURROUNDING Counties
County Court Clerks
1766 James Bridger, Joseph Bridger, Dolphin Drew, Daniel Herring, Michael Eley, Nicholas Parker, John Eley, Jr., John Scarsbrook Wills, George Purdie, Nathaniel Burwell, (Quo), Richard Hardy, Brewer Godwin, James Eason, William Davis, thomas Pierce, Thomas Miller, John Lawrence.
page 705
1772 … Daniel Herring, … Thomas Pierce
1772-83 … Daniel Herring, Thomas Pierce
1773-83 … Daniel Herring, Jr.
Click here for PDF document pages 186-705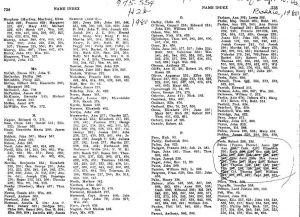 by John Bennett Boddie
Family History Library SLC
by John Bennett Boddie
975.554 H2b 1980