Abstracts of Wills and Other Records, Currituck and Dare Counties, NC 1663-1850 – Ballance
Ballance, Richard (1709)
Ballance, Samuel (1713)
Ballance William (1712)
Etheridge, Andrew (1701)
Etheridge, Luke (1712)
Etheridge William (1712)
Ivy, Thos, Carpenter (1708)
Nicholson, William (1706)
Pell, John (1696)
Toms, Francis (1696)
Addenda
Cox, Thomas (1696)
page 5 Taxables in Currituck 1755
Ballance, John 2
many Etheridge names
Ives, Timothy 1
Ives, Timothy 3
Ives, Timothy Jr. 2
Ives, WIlliam 1
Nicholson, John 6
Nicholson, Nicholas 3
Stanley, Richard 4
page 26 Henry Etheridge, March 14, 1742-1743. July Court, 1743. Sons: Samuel, William, Richard, Jon, Henry. Daughters: Ann Etheridge, Tedy Etheridge, mary Etheridge. Wife and Executrix: Susey. Witnesses: John Ballance, William Makefashion, Moses Linto. Clerk of the Court: John Lurry.
page 36 Abstracts of Currituck County Wills 1760-1800
Caleb Ballance, December 30, 1789. March 25, 1790. WB 1. Wife: Anne. Sons: John, Bartholomew, Caleb, Thomas. Father: John, deed. Exrs: wife and son Charles Ballance. Wit: John Ballance, James Etheridge
William Ballance, Senr. December 12, 1795. December 14, 1795. WB 2. Wife: Barbara SOns: William, John, Caleb, Aron, Wallace, Joshua, Thomas, Laban. Daughters: Barbara, Cortena. Mentions small peteauger, large peteauger… land near Hatterass Inlet to be sold at public auction Wit: William Rolinson, William Quidley.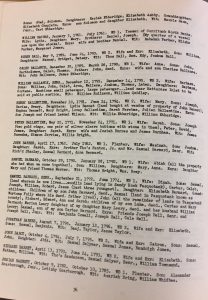 compiled by Gordon C. Jones 1958
Butler Center
F262.C95.J6

page 1, 2 . . . Names of persons mentioned in deeds or grants dated prior to 1725 in Book I through page 200 of Book VI, or those recorded prior to 1790. All individuals were not residents of Currituck Precinct and most of the Lords Proprietors never visited their Carolina holdings. The date in parenthesis indicates the earliest reference ot the person in the records examined: