Albermarle County Council Minutes page 16 – Will of Robert Wilson
Will of
Robert Wilson
of Pequimans Prect. To son Isaack Wilson all my apparel. To my grandchildren Robert Wilson, An Wilson, Sarah Bolman and Hester Bolman livestock. To my well beloved
wife An Wilson
the remainder of my personal estate and my plantation of 300 acres for her natural lifetime. To son Isack Wilson 150 acres: the land his house stands on, and land on the other side of the swamp from his house, from the middle of the vally on reedy Branch next to his house to the bridge on to the head of my line, and it is to be his wife's dower if she lives after him. My plantation to fall to on Isaack after my wife's death and then to his son Robert. If Isaack and Robert should die without male heir, then plantation to be divided equally among Isaack's children and the heirs of my daughter Sarah Bolman. Wife An Wilson appointed sole executrix. Wits: John Copeland, Rich. Ratclif, Eliz. Ratclif.
page 77
Will of Robert Wilson proved 1-7-1696 before the Governor and council. w. Glover
Widow An Wilson appointedexecutrix of will of Robert Wilson 2-25-1697 before Saml. Swann. Hender, Walker, Tho. Harvey, Danl. Akehurst, ffra. Tomes.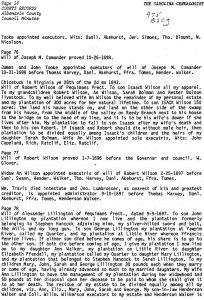 page 76 Chictuck in Virginia ye 28th of the 2nd mo 1693