Cavaliers & Pioneers Patent Book 6 p 154, 529
Mr Will Hatcher,
227 acs, Henrico Co, S side James Riv, 26 Sept 1674, Bet. Gilbert Elam & Henry Lown. Trans of 5 pers: Tho. Childers, Sarah Poynter, Hen. Davernett, Edwd Stringer, Ann Fryer.
pg. 154, Patent Book 6
HENRY LOWNE, 516 acs. Henrico Co., S. side James Riv., 26 Sept. 1674, p. 5 30. Running to his Landing; beyond the mouth of Usher's Cr., to Mr. Wm. Hatcher, above Packers Gutt, &c. 359 acs. granted to Richard Johnson 20 Ju ne 1639 and sold to sd. LOWNE May 1 1655; 100 acs. granted to James Usher in 1620 and by Ann Gates (or Gales), dau. and lawful heir of sd. Usher, with her husband, sold to sd. Johnson in 1638, and by him, sold to sd L OWNE 16 April 1655, as by Henrico Court may appeare; 66 acs. for trans p. of 2 pers.: Grace Savage, Tho. Clare.
Source: http://hatcherfamilyassn.com/getperson.php?personID=I43718&tree=WmTheIm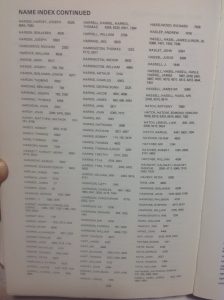 Patent Book 6 page 529.