Kinfolks of Wayne County North Carolina 1793-1832 Deed Book 7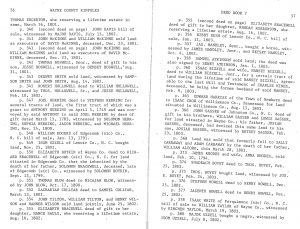 Page 56
p.339 ... Thomas Edgerton, she reserving a lifetime estate in same, March 16, 1801.
p. 352 Zachariah Collyar deed to Samuel Collyar, March 13, 1802.
p. 347 Joel Herring deed to Stephen Herring for several tracts of land, the first tract of which was a grant to Anthony herring on April 5, 1749 and was conveyed by said Anthony to said Joel Herring by deed of gift dated March 15, 1783, witnessed by Solomon Herring, Sophia Herring, Jacob Herring, and Michael Herring, Nov. 24, 1800.
Page 57 (page 366) John Sasser of Johnston Co., NC deed of gift to his brothers, William Sasser and Lewis Sasser, for land situated in Wayne Co; his father, Josiah Sasser, deceased, had devised this same land to his son, Josiah Sasser, witnessed by Betsey Sasser, Feb. 23, 1803.
Page 60 (page 423) John Fitz - proved by William Sasser. .
by Joseph Watson
F262.W4
W38
1986