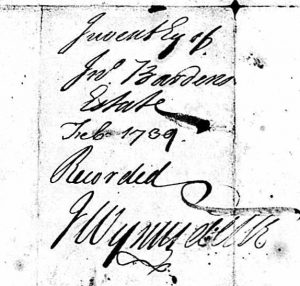 John Barden Estate Feb 1739
Eventuary of all an Singular the Estate of Goods and Chattels of John Bardin, Decd. mentioned as followeth vz
To three feather beads & furniture, one frame Table & two — one: Trunk: one Cloth loom and harnis one Linon Wheel and 2 bales one Woolring Wheel to Six — Locks to fore pr from hinges one Quilin Wheel and two Guns and 264 house Nails – three Ston Juggs one stone mugg: one Earthen muggs to Gl– one propor Box and — of t–: five D– fore — of putor: three putor plates and one poringor Six tech spoons for Iron one pr: of Stillards and five pounds — Shillings & ten ponce Silvor monory: two Othor Tabols fore Choars two pr. of D– hingos Three pr. of Cards one pr: of Sheep Shoars and thirteen sheep one Bible and Testamont Six Small b– one Small Bung bore one Croft Cutt Saw and — Wipp Saw and Lott and two filor one Sott of Car Tools and three Narrow axos three Broad Tools and three Narrow axos three Broad other hours one Iron Spade three hatehots and to one Box and to hoators and two Iron Woogos one Sain Casks one Carte and Wheels one pr: hand nail Stonos one Grind Stone two ovator palos and three prigons two Broad tra– two Washing tubs one halfe Busholl measure for oats Barrills two Sadlos fore Bridle bitts one old plow horse – homos: thirty three load of Cotten and two one head of hogs one — Corde and 27 L of Now feathors a small porcill of O– foators one Razor and hone one Lansst & hors fleam: one Iron Canto Strick and two Mons Coats and two Vorts and three pr: of Draws and two pr: of horson and one mans hatt one Sickele and five Bolls onr pr. Cloath Shoars one pr fire tongs and 1B mette Bretons one Tobaco —
Executed for Elizabeth Bardin Ex.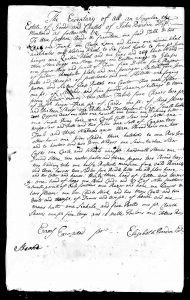 Itemized list: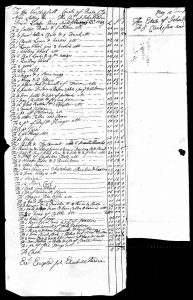 Click here for PDF – Probate Isle of Wight
John Bardin
Location: Isle of Wight
Record ID: 21251
Description: Appraiser
Book Page: Z-464
Remarks: John Cooke. Appraisal by George Pierce, William Johnson, John Bardin, Arthur Whitehead. This probate record was extracted from microfilmed copies of the original Will Book.