Will (or Gift of Deed) of William Hatcher, 1615-1680
For the County of Henrico the first day of April (by his Majesties Justices of the Peace for said County) in the year of our Lord God 1680 and in the thirty-second year of the reign of our sovereign Lord, Charles The Second by the grace of God of Great Britain, France and Ireland, King defender of the faith.
IN THE NAME OF GOD (amen) I William Hatcher being in perfect memory but now stricken in years do make my last Will and Testament in manner and form following. In primus I give and bequeath my spirit to Almighty God who gave it to me whensoever it shall please him to call me out of this sinful world and my body to the ground. Item: I give unto Thomas Burton, Jr. the plantation between the land of Mr. Henry Lound and the land of Gilbert Elam to wit: two hundred and twenty six acres, his choice of all my horses or mares, one heifer called blackchops, a young ewe, and a years schooling and clothes, till he reaches the age of seventeen years, to the confirmation of which I have hereunto set my hand and affixed my seal this two and twentieth day of February, 1676/7.
Signed and sealed in the presence of: John Pleasants, Henry Gee
Memorandum before the signing and sealing hereof, I do bequeath unto the above mentioned Thomas Burton Jr. the second choice of all my furniture thereunto belonging. s/Will Hatcher
Filed in Henrico County Court the first day of April 1680 by ye oath of Henry Gee and the testamony of John Pleasants who (being a Quaker) refused to sweare but only affirms that it to be Hatcher's deed, these two being witnesses to ye same.
Test: Hugh Davis, Dep Clerk of Court
– – – – – – – – – – – – – – – – – – – – – – – – – – – – – –
Another translation of the Will of William Hatcher, Henrico County, VA., Will and Deed Book Part 1, pg 121. Will of William Hatcher (Burton-Allen/Hatcher Anthology p 236, The Colonial Genealogist, from an article by Glenn M. Turnell, FAS).
To Thomas Burton Jr. the land between Mr. Henry Lound and Gilbert Elam containing 226 acres, his choice of all of my horses and mares, one heifer, one Ewwe, a yars schooling, and clothes until he arrives at 17 years of age. 20 February 1676/7. Wit John Pleasants and Henry Gee. Before signing, "I give also to Thomas Burton Jr. the second choice of all my bed and furniture." Recorded 1 April 1680 (see patent 26 Sept 1674).
From "The Family of Bartholomew Stovall, Volume 1, by Neil Thompson.
His Will, made when he was "well stricken in years" dated 1676/7, was proved 1 April 1680. It names no executor or residuary legatee and in fact mentions no child at all. On 26 September 1674 he had procured a patent for 227 acres of land in Henrico County; this land he devised for life to Thomas Burton Jr. together with the latter's choice of his horses and mares, one heifer, one Ewe, a years schooling, and clothing until he arrives at the age of seventeen, also the second choice of his bed and its furniture. Such a Will is more like a deed of a gift to one particular relative than a Will; the rest of his property was permitted to pass as in intestacy, and on 1 April 1680 Edward and Benjamin Hatcher, William Hatcher's surviving sons made a gift to the minor children of their deceased brother Henry of cattle and other personal property out of the estate of William Hatcher and then divided the residue among themselves.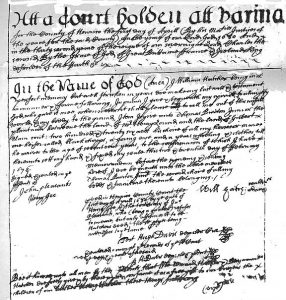 Source: http://hatcherfamilyassn.com/getperson.php?personID=I43718&tree=WmTheIm

Att a Court Holden at Varina