Banana Date-Nut Cookies
Ingredients
2 bananas medium size
1/2 cup dates pitted chopped
1/3 cup walnuts chopped
1/4 cup coconut shreds or 1 TB tahini
1 tsp. pure vanilla
1/2 tsp sea salt
2 TB toasted wheat germ or flour
1 cup quick rolled oats
Instructions
Heat overn to 375 degrees.
Chop or coarsely smash bananas.
In a mixing bowl, combine bananas, dates, walnuts, oil, vanilla and salt. Beat with fork to combine.
Stir in wheat germ and oats; let rest 2-3 min. to absorb.
Drop by spoonfuls onto prepared non-stick baking sheet or press flat.
Bake 25 min. or until golden brown
Yield: approx 12-15 cookies
Chocolate Chip Cookies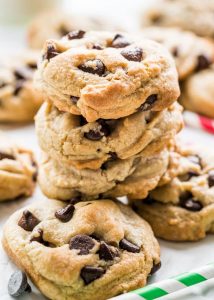 Ingredients
3/4 cup brown sugar packed
3/4 cup sugar
1 cup butter unsalted melted
2 eggs
1 tsp vanilla extract
1 tsp baking soda
1/4 tsp salt
2 3/4 cup all-purpose flour
2 cups chocolate chips semi-sweet
Instructions
Preheat your oven to 375 degrees. Line a baking sheet with parchment paper or leave ungreased.
In a large bowl or the bowl of you mixer add the sugars and melted butter and mix well until creamy.
Add the eggs, vanilla, baking soda and salt to the bowl and beat on low speed until well incorporated, for about 30 seconds.
Add the flour to the bowl and mix until crumbles form. Note that you could mix your flour with the salt and baking soda, but I don't find that it makes a difference at all.
Add the chocolate chips to the bowl and use a spatula to mix them in to the dough.
You can use a small ice cream scoop to scoop out cookie balls or use your hands to roll out the dough into balls, up to you how big you want your cookies. Place them onto the prepared baking sheet. This recipe yields around 50 cookies, so if you can only bake one tray at a time, place the remaining cookie dough in the fridge until ready for the next batch. Repeat with remaining cookie dough.
Bake 9 to 11 minutes or until just barely golden around the edges of the cookies. DO NOT OVER BAKE.
Let them cool on the baking sheet for about 15 minutes, then transfer them to wire rack to finish cooling or enjoy eating them.
Recipe Notes
Chocolate Chip Cooke dough no bake bar
Ingredients
2 tablespoons coconut flour
1/2 cup peanut butter unsalted, fresh, runny
2 tablespoons pure maple syrup
1/3 cup sugar free chocolate chips
Chocolate nut butter layer
3 oz dark chocolate
2 tablespoons peanut butter unsalted, fresh, runny
No Bake all Natural Cookies
1 cup honey or 1/2 c agave
1/2 cup Coconut Oil
1/2 cup cocoa powder
2 cups rolled oats
1 cup natural peanut butter
1 cup unsweetened flaked coconut
Instructions
Combine honey, coconut oil, and cocoa powder in a small pot and bring to a boil; cook at a boil for 2 minutes and remove from heat. Stir oats, peanut butter, coconut, and vanilla extract into the hot honey mixture until the peanut butter melts and the mixture is smooth.
Drop mixture by spoonful onto waxed paper.
Set aside to cool until firm, about 20 minutes.
Recipe Notes
Pam made these and they were very good.
Oatmeal Chocolate Peanut Butter No-Bake Candy Bars
Ingredients
1 cup peanut butter
2/3 cup Honey
1/2 cup Coconut Oil
(no substitutes this is what gives its creamy texture and flavor)
2 cups Oats not instant
1 1/4 cups Mini Chocolate Chips
3/4 cup Dried Cranberries
Instructions
In a medium sized saucepan, melt together peanut butter, honey and coconut oil
Remove from heat and add oats, chocolate chips and dried cranberries.
Stir until combined and chocolate chips are melted.
Spread into 1 9×13 pan
Refrigerate until hardened, about an hour.
Store in refrigerator
The Best Soft Chocolate Chip Cookies
Ingredients
3/4 (1.5 stickes) unsalted butter, softened to room temperature
3/4 c packed light or dark brown sugar
1/4 c granulated sugar
1 large egg, at room temperature
2 tsp pure vanilla extract
2 c all-purpose flour
2 tsp cornstarch
1 tsp baking soda
1/2 tsp salt
1 1/4 c semi-sweet chocolate chips
Instructions
In a large bowl using a hand-held mixer or stand mixer with paddle attachment, beat the butter, brown sugar, and sugar together on medium speed until combined and creamy, about 2 minutes. Beat in the egg and vanilla. Scrape down the sides and bottom of the bowl as needed.
In a separate bowl, combine flour, cornstarch, baking soda and salt. Add into the wet ingredients, then beat on low speed until combined. The cookie dough will be slightly thick. On low speed, beat the chocolate chips. Cover dough tightly with aluminum foil or plastic wrap and chill for at least 1 hour and up to 2 days. Chilling is mandatory for this cookie dough.
Remove cookie dough from the refrigerator and allow to sit at room temperature for 10 minutes. Preheat oven to 350°F (177°C). Line 2 large baking sheets with parchment paper or silicone baking mats. (Always recommended for cookies.) Set aside.
Once chilled, the dough will be slightly crumbly, but will come together when you work the dough with your hands. Roll balls of dough, about 1.5 Tablespoons of dough each, into balls.
Bake for 10-12 minutes, until barely golden brown around the edges. The cookies will look extremely soft when you remove them from the oven. Cool for 5 minutes on the baking sheet. If the cookies are too puffy, try gently pressing down on them with the back of a spoon. They will slightly deflate as you let them cool. If desired, while the cookies are still warm, press a few extra chocolate chips into the tops. This is completely for looks!
Transfer cookies to a cooling rack to cool completely. Cookies stay fresh covered at room temperature for up to 1 week.
---
Notes
Make Ahead & Freezing Instructions: You can make the cookie dough and chill it in the refrigerator for up to 2-3 days. Allow to come to room temperature then continue with preheating the oven in step 3. Baked cookies freeze well for up to 3 months. Unbaked cookie dough balls freeze well for up to 3 months. Bake frozen cookie dough balls for an extra minute, no need to thaw. Click here for my tips and tricks on freezing cookie dough.
Source: https://sallysbakingaddiction.com/chocolate-chip-cookies/