North Carolina Historical and Genealogical Register (Volume 2)
Page 317 - Abstract of Marriage Bonds
1778
Cobb, Nathan and Winney Mitchell, Aug 9,  Jesse Pritchard.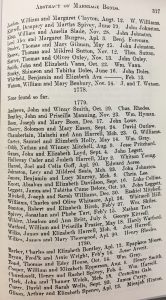 Page 356 Abstract of Bertie County Wills
Standley, Ann June 17, 1775; Augusst Court 1775.  Sister Elizabeth Jernigan, Martia Gardner, John and James Gardner, my brothers and sisters,
Stanley, Daid  Jan'y 17, 1795 ... Annie Sparkman, and Jane Pervis, Test. James Garner, Samuel Gardner, Benj. Gardner
Page 371 Abstract of Bertie County Marriage Bonds
Rhodes, James and Ann Outlaw  Oct. 23  Jona Standley
Page 373 Abstract of Bertie County Marriage Bonds
Standley, Jonathan and Mary Watford M'ch 17, Ralph Outlaw
Page 525 - Abstract of Bertie County Wills
Kington, Bathia. Oct. 24, 1807; Nov. Term 1815. Daughter Frances, grand-son Jesse Cobb, son-in-law Cullen Currie and wife Sarah, grand-children Nancy and Henry  Cobb, brother Michael Capehart Exr. Test, James Capehart, Elisha Thomas.
Page 540 - Abstract of Bertie County Wills
Josiah Peele Sr. will Bertie Co Nov. 5, 1841; May Term 1829, Sons ...
William Peele will Bertie Co Oct. 28, 1829; Nov. Term 1829. wife Sarah ...
Page 581 - Soldiers of the N. C. Continental Line
Cobb. Nath "l" pt., Blount's co. July 20, '78, 9 mo.
Cob. Henry pt., Hall's Co., 1781, 12 mo. Left service Sep 1, 82.
Page 637 - Queries and Answers
Late of Auburn, Ala., writes the Geo. Washington an old gentleman some 10 years aog, traced his line thus, son of John Washington and wife Elizabeth Heritage Cobb, (daughter of Jesse Cobb and Rachel Whitfield, John Heritage son of William Heritage and wife Susanna Franks, (daughter of Martin Franks).  Can any of our readers substantiate this statement?